The SCHIEBEL fail­safe tech­no­logy is based on the idea of com­bi­ning an electri­cal actua­tor with a purely mecha­ni­cal safety func­tion that ope­ra­tes inde­pendently of the power sup­ply. If the power fails, fit­tings can be put in a pre­de­fi­ned posi­tion in less than one second. It takes just a few steps to design the ideal fail­safe actua­tor.
Explo­sion Pro­tec­tion
Power Sup­ply
Cor­ro­sion Pro­tec­tion
Ambi­ent Con­di­ti­ons
Net­work Con­nec­tion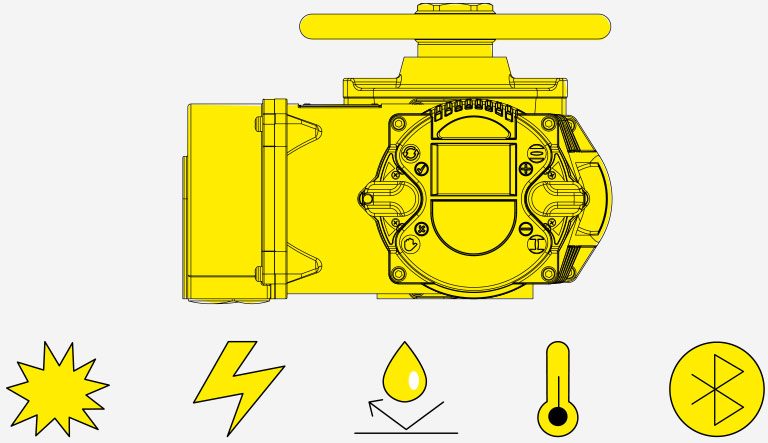 In com­bi­na­tion with the cm series, the inno­va­tive fail­safe func­tion is avail­able for models of all sizes.
CM 03 up to 32 Nm
CM 06 up to 64 Nm
CM 12 up to 125 Nm
Models of all sizes can be cus­tom-expan­ded by adding various com­pon­ents.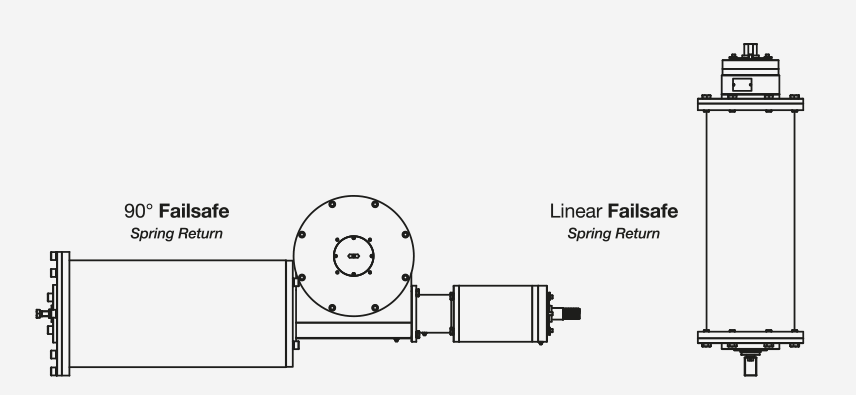 failsafe series
safety function
Safety Inte­grity Level (SIL) clas­si­fi­ca­tion in accordance with IEC 61508 and relia­bi­lity are at the core of SCHIEBEL's net­wor­ked CM actua­tors, which are fit­ted with an optio­nal fail­safe func­tion. Thanks to their sophisti­ca­ted tech­no­logy, they also offer excel­lent pre­cision and speed con­trol. High effi­ci­ency is the hall­mark of the CM series. Low-wear and low-fric­tion thread and gear com­pon­ents ensure a long ser­vice life. As a fur­ther option, an enga­ge­able hand­wheel assem­bly is avail­able, which enab­les manual move­ment of the actua­tor (inclu­ding spring) even when electri­cally de-ener­gi­sed.
The intel­li­gent func­tio­nal design and high-grade mate­ri­als raise the CM fail­safe actua­tors to a new level of qua­lity. During the design pro­cess, SCHIEBEL paid par­ti­cu­lar atten­tion to ensu­ring that the centre of gra­vity is loca­ted directly above the valve; this has a bene­fi­cial effect in terms of weight dis­tri­bu­tion and assem­bly so that there are no pro­blems with vibra­ti­ons on the piping. Fur­ther­more, the design of the units is very strai­ght­for­ward so they are easy for the end user to under­stand and ope­rate.
With its cus­to­mer-spe­ci­fic solu­ti­ons, SCHIEBEL offers all the soft­ware and hard­ware fea­tures that cus­to­mers need for the use of fail­safe actua­tors in their com­pany. Thanks to in-house soft­ware engi­nee­ring – one of SCHIEBEL's core com­pe­ten­ces – users can rely on opti­mal hard­ware coor­di­na­tion and advan­ced ser­vice sup­port at all times.
CM actua­tors with fail­safe func­tion com­bine the advan­ta­ges of electric drive and mecha­ni­cal spring. Because of the lack of other tech­no­lo­gies (e.g. hydraulic/pneumatic), as well as the simple design and sophisti­ca­ted soft­ware opti­ons, acci­den­tal errors are redu­ced to a mini­mum, resul­ting in sub­stan­tial cost savings in terms of ope­ra­tion, sto­rage and ser­vicing. In addi­tion, an optio­nal hand­wheel can be inte­gra­ted in the unit.
The low-wear mecha­ni­cal sys­tem with its fru­gal, highly energy-effi­ci­ent electric drive with state-of-the-art power elec­tro­nic modu­les and inte­gra­ted energy-saving elec­tro­nics redu­ces main­ten­ance costs for the user. In addi­tion, SCHIEBEL has inte­gra­ted exten­sive moni­to­ring and dia­gnostic func­tions into its actua­tors. Remote con­trol fea­tures and SCHIEBEL's on-site ser­vice gua­ran­tee reli­able ope­ra­tion.
The sophisti­ca­ted Smart­con con­trol sys­tem deve­lo­ped in-house by SCHIEBEL ensu­res strai­ght­for­ward com­mis­sio­ning and simple, reli­able ope­ra­tion. The con­trol unit meets all requi­re­ments rela­ting to digi­ta­li­sa­tion and IoT, as well as pro­vi­ding inter­faces to all major fiel­dbus sys­tems. In addi­tion, the Sin­gle Pair Ether­net fea­ture offers opti­ons for an auxi­li­ary power sup­ply (Power over Data Line).
CM actua­tors with fail­safe func­tion are based on SCHIEBEL's pro­ven modu­lar con­cept. The basic modu­lar struc­ture of the actua­tor can be com­bi­ned with a num­ber of dif­fe­rent fail­safe units. To make the selec­tion of the actua­tor as strai­ght­for­ward and user-friendly as pos­si­ble, SCHIEBEL has desi­gned its 3-level con­cept. It has also ensu­red com­pa­ti­bi­lity with a range of dif­fe­rent sup­ply and com­mu­ni­ca­tion net­works. Thanks to this tool, it is now easier than ever to find the right pro­duct for the par­ti­cu­lar app­li­ca­tion.
The fail­safe func­tion ensu­res that the actua­tor is quickly brought into a safe posi­tion in the event of an emer­gency. This is per­for­med by means of a mecha­ni­cally deco­u­pled spring and the­re­fore works even if the electri­cal power sup­ply fails. It is pos­si­ble to cover cus­to­mer-spe­ci­fic requi­re­ments and pro­blems thanks to the nume­rous opti­ons in terms of ope­ra­tion and para­me­teri­sa­tion. Deve­lo­p­ment acti­vi­ties at SCHIEBEL are always cus­to­mer-ori­en­ted. No mat­ter whe­ther the requi­re­ment is for extre­mely fast posi­tio­ning times or slow move­ment, CM actua­tors with fail­safe func­tion are able to meet these chal­len­ges.